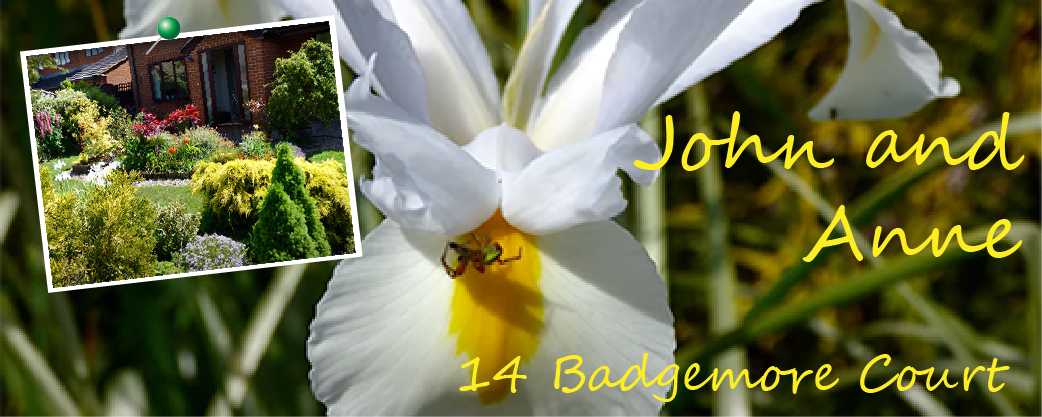 We like texture in our garden so, as well as flowers and shrubs, you will see surrounding the lawn Cheshire pink gravel as well as wood, glass, metal and stone. The stones are granite, slate and limestone from around the country! The garden is split into three distinct areas.
Looking at the house from the pavement to your right is a triangular patch. This area has ground covering conifers which were planted as miniatures. This year they have put on a spurt and will get a good trim in the autumn! There is a miniature variegated holly, lavender, euphorbia and a selfset cotoneaster horizontalis. Hidden in the centre are pink flocks, violets, and other alpines. At the time of writing, in mid-May, there is a beautiful clump of 3-foot-tall white iris.
The central area is contained by a small wooden roll that is earmarked for replacing next year. The main addition last autumn was the planting of a small red acer that had become pot bound in the rear garden. It survived the move and had settled in nicely but the nasty early morning frost in the second week of May has taken its toll. Foxgloves, that pop up every year, are just coming into bloom growing vertically through the acer. The bed includes long established heathers and other ericaceous loving plants (azalea). We have dramatically culled our poppies and hope to keep them under control next year. We are experimenting with a new yellow acer which is buried in its pot! This is underpinned with new alpines, sweet smelling pinks and interesting ice plants which will soon be a riot of colour. To the back of this bed is a very pretty Viburnum burkwoodii that smells delicious in the Spring. There is also the remains of a Japanese Winter flowering Cherry which grew too large for this area.
The third area next to the fence is probably the most colourful and dramatic. It gives us great pleasure all the year round as we can see it from our lounge window. It has several bird feeding stations so we are constantly engaged, watching blue tits, wrens, sparrows, blackbirds, starlings, robins, pigeons and doves as well as those pesky magpies, some of whom are more successful than others in obtaining the variety of food available. This area also has a mountain ash tree, currently in flower that will give us red berries in the late summer, great for birds. The other tree, planted in 2004, is a five-foot-high creamy white and pink magnolia. This tree is fantastic value as it flowers from the beginning of April through to the end of June. When hit by the frost it invariably recovers and gives us further blooms.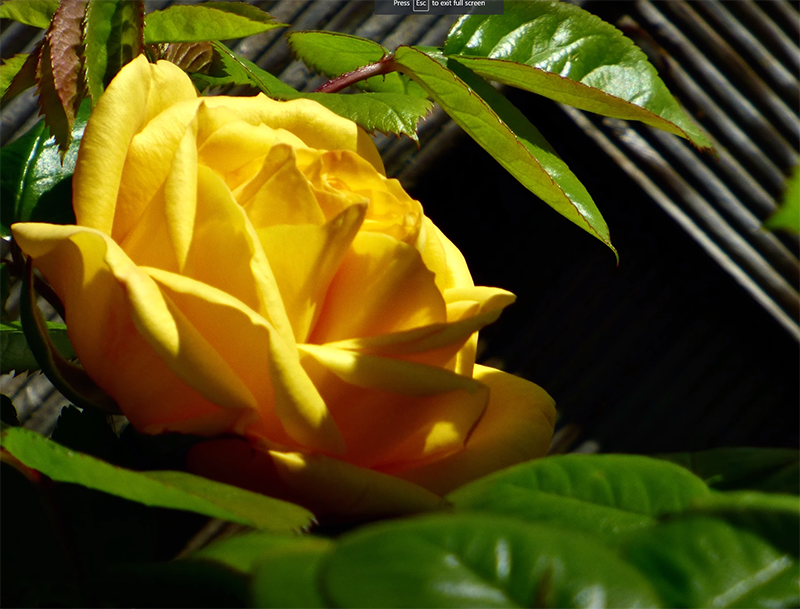 Last, but not least, in this area are the roses. Out now is a wonderful yellow orange climber that last year we trained along some new wires on the fence. If you look carefully you will see new blooms on very short stems appearing out of the extended branches on the fence. In front of this are two further roses that continue blooming all summer. Immediately in front of our lounge window are three large shrubs: forsythia, spiraea and philadelphus. At the very front near the pavement are three magnificent David Austin bush roses. They are in bud at the moment but will flower later and will then bloom into the autumn. Immediately behind is a berberis. Amongst other small bushes is a display of magenta coloured lupins, one of our favourites. At ground level we have hardy miniature geraniums.

Hope you enjoy our front garden, please have a look at the YouTube slide show of our garden at: https://youtu.be/LzaWprTfo9Q