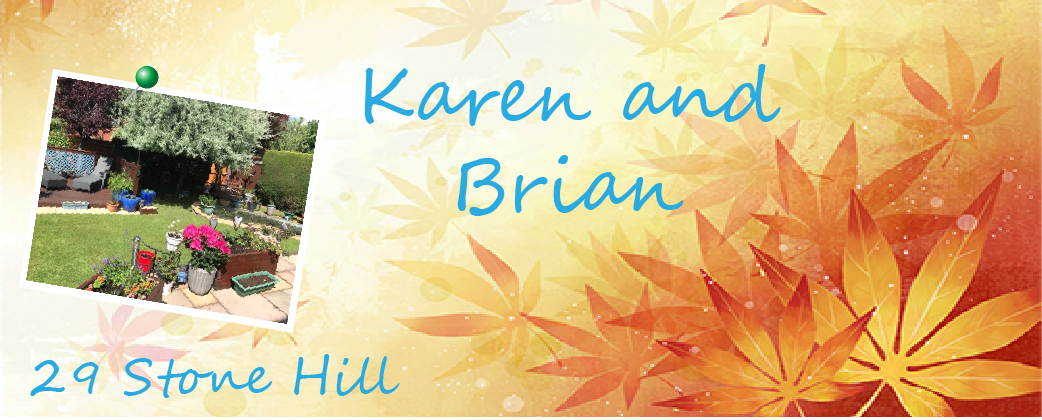 Our Garden in June……a virtual view.
You will enter through the side gate where you will see our garden which consists of Decking areas, trees, pots, pond and colour.
Were this for real, the top Deck would host the refreshments of home-made cakes from traditional Victoria sandwich to cream horns!!! Tea, coffee and [weather depending] cold drinks (all proceeds going to the Hospice of St Francis).
We have three large cherry trees with beautiful deep red leaves which sway in the wind, a large willow tree with sage green leaves (which in the past has been mistaken for an olive tree) and conifer hedge around the perimeter of the garden.
The middle deck hosts a seating area (to enjoy refreshment) with pots of colour including peonies, geraniums, petunias and lilies.
On the patio we have two raised boxes filled with plants, to give colour and fragrance; in one we have reds, oranges, yellows and white in the form of Begonia Destiny, Gazzania Firecracker and Mimulus; the other in pinks and purple from Nemesia, Geranium, Fuchsia and Busy Lizzies.
Continue across the patio and you will see the conservatory and our pond, which has been a large feature in the garden for must be 30 plus years and has approximately 25 common Goldfish and a white water lily and pond plants and a fountain to cool the fish on hot days.
The back wall of the house and along the front of the house have Hanging Baskets, again with lots of colour from Petunias, Verbena, Trailing Geranium, Begonia Sparkle.
We hope this has been helpful and possibly encouraging to other gardeners.






Use your browser back button to return to the Virtual Open Gardens 2020 menu.