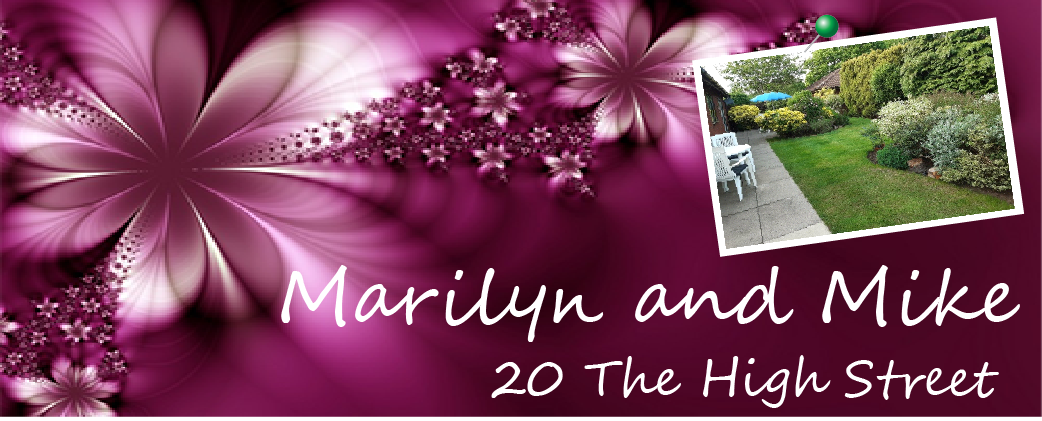 The front garden at the side of the bungalow is grassed with a border of rose bushes and a climbing Clematis Nelly Moser. In the centre of the grassed area is a bed of Magic Carpet and Hebes. There is also a small bed of heather, miniature conifers and holly. The front entry to the house is grassed with rose bush borders and a brick wall.
Entrance to the back garden is via a side entrance and as you walk through you will see Cordyline Australis 'Red Star'. Behind the trellis on the back patio are 2 raised beds with mature Lavender and Hydrangeas. The shed is housed on this patio together with seating and sun loungers. It is also here that you will find our tomato plants and a back border of grasses, Hebe, Lavender and other planted and potted plants. At the back of this border for interest are 3 aluminium spiral sculptures. Walking on you will find a sand pit in a fenced enclosed area at the side of the back patio together with an enclosed toy box for the grandchildren when they come to visit. Here too you will find a fern and log pathway leading to the grassed area. Look out for the Green Man, we have three. In front of the sand pit is a very tall conifer, a plant and flower bed and another small paved patio with seating to enjoy this part of the garden.
In this area is our fig tree. Walking further round is a grassed area with well established conifers, apple tree and borders consisting of Hostas, Jack Frost, Euonymus Japonicus, Black Elders.
Continuing round again you will find more grass areas and borders consisting of London Pride, Hostas, St. John's Wort and Sage. This will lead you onto another patio with seating to enjoy this part of the garden and here you will find Campanula, Ceanothus Puget Blue, California Lilac, a Forsythia Bush, Sedum, conifers and many other plant species.
The garden gives us a safe and peaceful environment and attracts many birds, insects and bees. On this patio you would have been served refreshments and small items for sale. All the proceeds would have been donated to the Alzheimer's Society UK.






Use your browser back button to return to the Virtual Open Gardens 2020 menu.